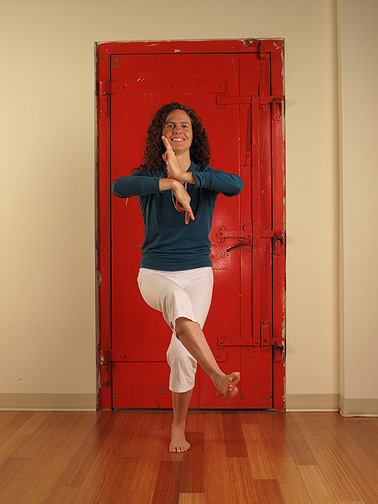 Overview
Yoga consists of various practices that help us to unite with the divine within. The body and mind comes into balance by focusing on the movement of breath and energy while practicing asana (postures), pranayama (breath control), dhyana (meditation) and eventually, transcendence (samadhi). 
I have taught hatha yoga for years at PranaShanti Yoga Centre in Ottawa, in a Federal Government Department in Gatineau and at an old school house in the woods.
Here is an example of how yoga can help us to regulate our nervous systems, emotions and physical tension with well~known Yoga Instructor Seane Corn:



Benefits
Some physical benefits of yoga include: increasing flexibility, lubrication of the joints, ligaments and tendons, massaging all organs, complete detoxification and excellent toning of muscles. 
The broader benefits are: harmonization of the body and mind, gentle opening of the chakras and a calmer, more adept and peaceful mind. It also reduces stagnation in the body that arises due to accumulated stress.

Training
I have studied and practiced yoga since an extended trip to India in 2006 and completed my 200 Hour Yoga Teacher Training at the Sivananda Ashram in Quebec. I have studied with nationally renowned yoga teacher Hart Lazer and his internationally renowned teacher Ramanand Patel from India. I have also studied with internationally renowned Ashtanga Yoga teacher David Swenson, Ashaya Yoga founder, Todd Norian, Yoga of Sound artist Snatam Kaur and many more.
"Health is wealth. Peace of mind is happiness. Yoga shows the way."
– Swami Vishnu-devananda